Westech M9096 mini portable gas sampler stack train
The Original Industry Leading M9096 series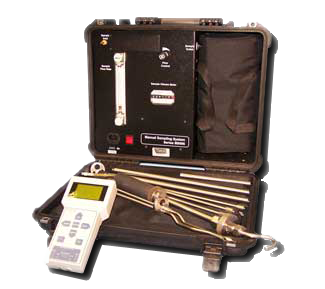 In-Stack Manual Method Particulate Sampling Train for ISO9096, EN13284-1, US EPA Method 17.
• Lightweight construction with case suitable for easy transportation.
• Modular Sample Probe & Pitot Assembly enables user to extend or shorten for larger and smaller stacks/ducts.
• Unique Sample Gas Flow Controller that maintains the flow at the set value, compensating for Filter loading.
• Pump, Dry Gas Meter, Flow Controller & Flowmeter built into carrying case.
• Ideal for Limited Access Sampling or Initial Site Survey.

Detailed specification
• 1.2M Modular Probe & Pitot Assembly
• 47mm Filter Holder & Selection of CEN/ISO Nozzles
• Flow rate: 0 - 12 lpm
• Flow Calculation Software (Spreadsheet)
• Weight: 17Kg (Complete)
• Power - 110V/220V/12VDC
M9096 Gas Sampling Train.
Mini Gas Sampling Train for Low Flow Constant rate Vapour phase Gas with options for Heated Filter Box & Filter.
The mini gas sampler can also be used in conjunction with Westech's Standard Manual Stack Sampling Train (MST) for Side Stream Sampling of gases.
Detailed specification
• 1M-Heated Glass Lined Probe (110V)
• Support Tube
• Midget Impinger Set with Ice bath
• Umbilicals (un-heated)
• Temperature Controller (110V)
• Requires external pumping & flow metering system such as M9096.
Options
• Heated Filter Box
• Longer probes, up to 2.0M
• Optional Probe Liner Materials: SS, Titanium, Quartz Glass, and PTFE.
• Accessory Glassware, fittings, tubing, Manifolds for Side Stream Sampling.
• Servicing: Calibration, Training, 220V
Got a query?
We here at Westech Instruments are making ourselves fully available to answer your questions and settle any enquiries you may have!